Pups Arriving Into Store Over The Next 6 Weeks
THIS IS A LIST OF ALL THE NEW PUPS THAT WILL BE ARRIVING INTO STORE OVER THE NEXT 6 WEEKS. LIST ISUPDATED DAILY AS NEW PUPS ARE BORN. (NB..ALL PUPS ARE 8 WEEKS OLD OR OLDER WHEN THEY ARRIVE INTO STORE)...BREEDERS WILL SEND US PHOTOS OF THE NEW PUPPIES FOR US TO ADD TO THE WEBSITE WHEN THE PUPS ARE 6 - 7 WEEKS OLD.

Beagle - 1 February (Tri)
Mini Dachshund (Short Coat) - 15 February (Black/Tan Pups)
Toy Spoodle (Cocker Spaniel X Toy Poodle) - 1 March (Gold & Ruby Pups)
Shorkie (Shih Tzu X Yorkshire Terrier) - 1 March (Tan)
Mini Dachshund - 1 March (Silver Dapple & Black/Tan Pups)
NB. Mother is Long Coat Silver Dapple & Dad is Short Coat Black/Tan

PLEASE NOTE:- A puppy sale instore takes about 1 hour to get through... from first showing you your new puppy to going through training puppy/raising puppy and filling out all the relevant paperwork.........Puppy sale's must be started 1 hour prior to closing time.....(Preferable you DO NOT BRING YOUNG CHILDREN AS they get easily bored and it is hard for you to watch them while our staff are going through a long sale and lots of paperwork).

YOU CAN CALL AND PLACE A DEPOSIT ON ANY OF THE PUPS THAT ARE ARRIVING INTO STORE SOON (07) 3855 5511. DEPOSITS ARE NON REFUNDABLE/NON TRANSFERABLE IF YOU CHANGE YOUR MIND. BALANCE OF PAYMENT IS DUE BY CLOSE OF BUSINESS THE DAY THE PUPS ARRIVE INTO STORE.
WE CAN EVEN ARRANGE TO HAVE YOUR PUPPY PROFESSIONALLY FLOWN TO YOU ANYWHERE IN AUSTRALIA.
PLEASE NOTE THAT COLOURS OF THE PUPS MENTIONED MAY CHANGE FROM WHEN BOOKED IN AT A WEEK OF AGE TO WHEN THEY ARRIVE INTO STORE AT 8 WEEKS. PHOTOS OF PUPS SHOWN AT 6 - 7 WEEKS ARE PHOTOS OF ACTUAL PUPS ARRIVING INTO STORE AND NOT PREVIOUS LITTERS.(UNLESS OTHERWISE STATED).

TO PLACE A DEPOSIT ON ANY OF THE PUPS ARRIVING INTO STORE SOON SO YOU DON'T MISS OUT.......PLEASE CALL THE SHOP ON...(07) 38555511 or AFTER HOURS MOBILE 0408 985 133 .. (prices can be subject to change). Deposits are non refundable/non transferable if you change your mind.
All of our puppies are Vet Checked, Vaccinated, Microchipped, Heartwormed and Wormed. All pups are fed on "Advance" premium puppy biscuits. All pups ALSO come with a Free After Purchase Vet check with Wilston Vet, 50 Newmarket Rd, Windsor, (07) 3357 3882, and a 7 Day Health Guarantee.
Also you get 1 Months FREE Pet Insurance, all of this has been PRE PAID for by Puppy Palace. (Total Value over $346.50).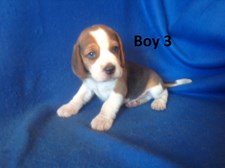 Beagle - Boy. I am arriving into store 1 February. I am 6 weeks old in this photo. You can call the shop on 073855551 to get a price and place a deposit so you don't miss out. I will arrive into store when I am 8 weeks old.
Place your mouse over the photo and click to enlarge it.
I AM NOW SOLD - DEPOSIT 17/1 "Noble"